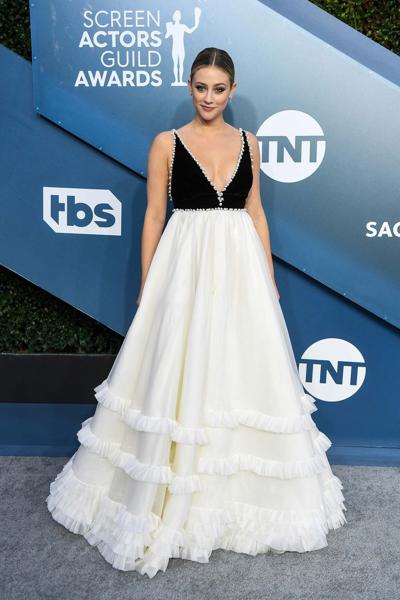 Lili Reinhart arrives at the 26th Screen Actors Guild Awards at the Los Angeles Shrine Auditorium and Expo Hall on Jan. 19, 2020. 
Wally Skalij
This morning, Lili Reinhart woke up and read a headline about herself. It said that she'd broken up with her boyfriend, "Riverdale" costar Cole Sprouse, and was so heartbroken that she felt like she was dying.
Then she got pissed. She and Sprouse had, in fact, split in March; the actor would confirm as much on Instagram a few days later. But she had yet to utter a word about the separation to the press.
So, sleep still in her eyes, she logged on to Twitter and said that her words had been used for "clickbait" — that she'd "never speak so candidly" about a private relationship. Even if she used to pose with Sprouse on magazine covers and walk the red carpet with him at the Met Gala.
But it can be difficult to draw those boundaries when you've established yourself as one of the most open young Hollywood stars. At 23, Reinhart speaks freely about her bisexuality, body image and mental health. She has weighed in when her colleagues have been accused of sexual harassment and racism. And over the next few weeks, she's unveiling two intensely personal new projects: "Chemical Hearts," a film for which she channeled her own battle with depression, and "Swimming Lessons," her debut book of poetry.
With nearly 25 million Instagram followers — a product of her role as Betty Cooper on the CW's "Riverdale" — she finds herself weighing her natural inclination towards transparency against the judgment of the public.
"This pandemic has been incredibly hard, and it's hard to stay positive," she admits. "I want to post sad songs on my Instagram just like everyone else does. But I hold myself back, because I know I have millions of people watching me who want to dig through every little thing I post and try to figure out the meaning behind it."
Amid the pandemic, Reinhart moved into her first house — what TMZ referred to as a $2.7-million "Spanish beaut" in Encino. That's where she is today, surrounded by new furniture that doesn't feel like hers yet. Her dog, Milo, is barking at the UPS delivery man. She's wearing a Playboy T-shirt she bought from PacSun.
Since "Riverdale" shut down production in Vancouver in March, Reinhart has mostly spent her time alone here. She's tried to look at quarantine as an opportunity — writing in her journal, learning how to meditate, meeting weekly with a therapist, reading self-help books.
"Obviously, I'm dealing with a lot of depression. So how do I find a light at the end of the tunnel?" she says. "I really wanted to go out of my way to find the root of it. Now, when I feel something come up, I let it come out. Because otherwise, it's literally harming my body and my brain. Allow your body to feel what it feels. That is literally how you heal."
Almost as soon as "Riverdale" thrust her into the spotlight in 2017, Reinhart revealed that she'd had depression since she was 13. Since then, it's become something she feels fans identify her by — a responsibility she has mixed feelings about. As she writes in "Swimming Lessons":
People wish for me to be this
trailblazing girl.
The one who has marked out a
path for others to follow
on how to be happy,
how to fight when your limbs feel broken.
Sometimes I feel like a fraud.
Which is partly why "Chemical Hearts" appealed to her so much. In the film — which is now streaming on Amazon, and on which she also serves as executive producer — she plays Grace, a high schooler grappling with the grief of surviving a car accident that killed her boyfriend. When she starts falling for a new boy (Austin Abrams), her sadness begins to overtake the fledgling relationship.