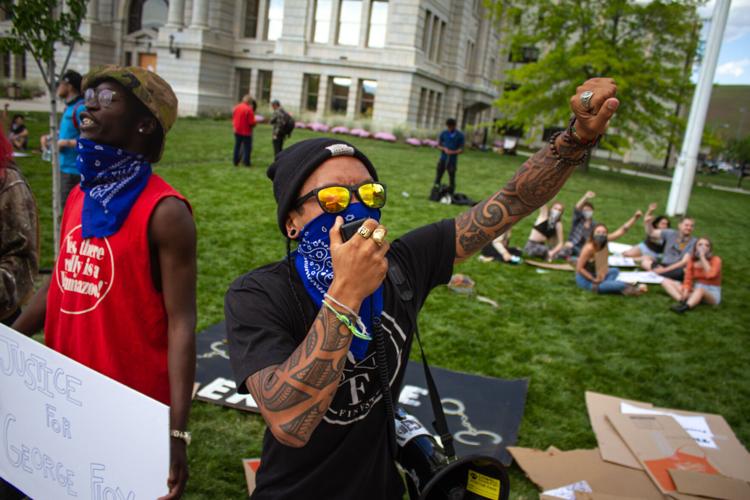 Missoula Black Lives Matter supporter Ward Wilson, 27, leads a chant outside the Missoula County Courthouse Thursday afternoon, June 4, 2020. The Black Lives Matter supporters protested the killing of George Floyd, an unarmed Black man who died after a police officer knelt on his neck for almost nine minutes in Minneapolis, Minnesota. Missoula Black Lives Matter supporters have been rallying downtown since last Friday, May 29. "It's been really positive, the first initial days were tense because we didn't know what was going on and how people would react," Wilson said. "Fast-forward a couple days later, we make alliances with people of different views. We've all really come together as a community to keep each other safe and speak up against racial injustice."
Daniel Duensing / Montana Kaimin
Black Student Union Organizes Protest for George Floyd
Hundreds gathered outside of the Missoula County Courthouse on Friday, May 29 to protest the killing of George Floyd and demand racial justice, in the first of a series of daily Black Lives Matter protests in Missoula. Floyd's death in Minneapolis police custody led to protests across the country. Most people wore masks and maintained social distancing, according to Missoulian reporting. The University of Montana Black Student Union (BSU) organized the event. 
BSU President Nonso Maxwell Obieyisi said demonstrators came together because people of color are tired of racial injustice and they want people to hear their voices. "What is happening right now is too disheartening and disgusting, especially in this modern day and age; and in the midst of a pandemic for that matter," he said. He said Black people are tired of feeling helpless as innocent people are killed for their skin color. He says the issue affects not just people of color, but also white people, because everyone should be unified and free. Obieyisi was shocked and heartened by the amount of people who came to the rally, he said he wasn't sure if people in the predominately white Missoula would come. "Injustice anywhere is a threat to justice everywhere. Black people deserve to survive. We deserve to breathe, for we have carried this burden for too long. And we are tired," he said. 
Derek Chauvin, the former Minneapolis police officer captured on video using his knee to pin down Floyd at the neck, even after Floyd became unresponsive, has been charged with second-degree murder. The other three officers involved have been charged with aiding and abetting second-degree murder. (MAZANA BOERBOOM)
Phase 2 guidelines began June 1
Starting Monday, June 1, Montana began phase two of reopening after statewide closures and a stay at home order in response to COVID-19. Some of the changes allow business and restaurants to be at 75% capacity and allow people to gather in groups of up to 50. The 14-day quarantine for people entering the state has been lifted as well. Social distancing is still encouraged and at risk populations are still asked to isolate themselves, according to MTPR reporting. This comes after eight new cases were reported on Friday, May 29, the first spike of COVID-19 cases in weeks. (MB)
Idaho State track athletes file request to keep transgender athletes from competing against them
Two track athletes from Idaho filed a request to dismiss a lawsuit that would allow transgender track athletes to compete in Idaho. They both compete for Idaho State University and lost to cross country runner June Eastwood, the first transgender woman ever to compete in Division I cross county, from Montana in races in 2019.The two athletes, Madison Kenyon and Mary Marshall, claim that racing against Eastwood is "unfair competition". 
In past races that Marshall and Kenyon competed against Eastwood, all three runners have placed below other cisgender athletes. The Fall 2019 MSU XC Classic saw Eastwood place 3/55, Kenyon place 28/55 and Marshall place 49/55.
"I feel bad for the two ISU (Idaho State) athletes who were manipulated or misguided into filing a defense against the ALCU (American Civil Liberties Union) case," Eastwood said in an Instagram post. Idaho's Republican Gov. Brad Little originally signed it into law that transgender athletes couldn't complete in Idaho sports in May. The ban is supposed to go into effect on July 1. (JACK MARSHALL)
Provost Jon Harbor leaves UM after a two-year term
After two years in the position, the University of Montana provost will leave UM in July of 2020. Jon Harbor, who began at the University of Montana in August of 2018, is leaving to return to Purdue Global University to serve as its provost. He was a professor at Purdue for 11 years before coming to UM.