Briefs boys Boxer Free pattern
Remember the sweet knits I got from sweet n' charmed fabrics? Well I decided to make Jude some pajamas, only he sleeps in a tee shirt and his underwear, you know because he is a boy and it gets hot. So I thought why not just make him some underwear, which oddly is something I swore I would NEVER make, and never wanted to make, but you know what? I love them, and Jude loves them. They are so soft, they don't have elastic, they are comfy. (or so the boy says)
I even made a fly version (although my son claims he doesn't use it) They were so quick to make I made about 6 pairs in an evening. I even made a pattern for you. The pattern is roughly size boys S or a 5/6.  They are tight fitting, or slim fit.
*Pattern includes 3/8″ seam allowance
You will need:
1/2 yard of knits with 50% stretch or more
With right sides together sew the back panel to the back side of one side panel piece.
Top stitch along that seam.
*Tip, when sewing with knits I sew with my regular machine and slightly longer stitch length. Stretch the fabric ever so slightly while sewing and then steam to press and the fabric will stretch along the seam enough to wear comfortably.
Sew the front panel to the front edge of the side panel. Top stitch the same way as the back.
Then with right sides together sew the other side panel to the front and back panels, and again top stitch.
With front and back right sides together sew along the crotch from one leg up and down the other.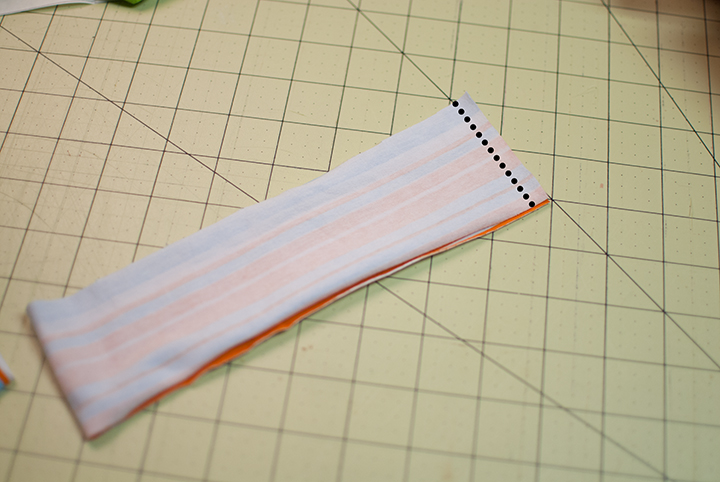 Then fold the waistband in half width wise so right sides are together, and sew along the edge.
Press seam open flat.
Fold the waistband in half height wise so the seam is toward the inside. Mark the center back and center front, as well as the two side points.
With right sides together sew the waistband to the waist of the shorts. Match the points marked on the waistband with the center front and back and sides of the shorts. Stretch the waistband while you sew to fit it to the waist.