No matter what she wears, there will always be people who want to criticise the Duchess of Sussex's fashion choices, claiming that she's too fashion-forward for the royal family or, on the other hand, that she's lost the edge that used to make her cool and now her outfits are just plain boring.
Most of the time, these accusations are both unfounded and unnecessary, but there's one item of clothing that even the most loyal Meghan fans have to admit was not a good choice, and that's the tights she wore at the first appearance since her marriage to Prince Harry.
At Buckingham Palace's annual garden party in May, the Duchess chose a pair of supposedly 'flesh-coloured' tights (reportedly because ladies of the royal family must not be bare-legged), but the problem was, they definitely weren't the colour of her flesh.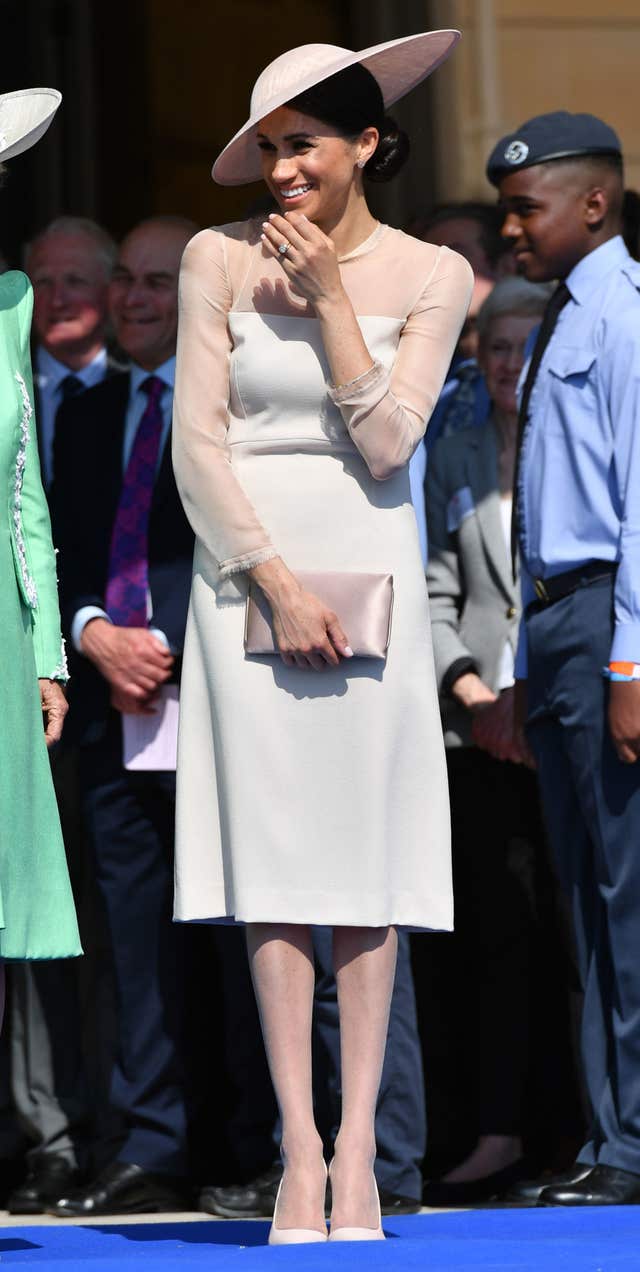 (Dominic Lipinski/PA)
You can't blame her, though. A quick survey of the high street's hosiery departments reveals that colours are very limited indeed, with pale taupe shades dominating alongside a few varieties of 'suntan' brown, rather than anything designed to suit mixed race or black women.
Thankfully, times are changing, with British tights brand Heist announcing today the launch of a seven-shade nude palette, the result of a crowdsourcing initiative called The Nude Project.
Starting last summer, more than 85,000 people took part in the project, revealing 1,000 distinct skin tones, which data scientists used to create the final palette of seven for its signature seamless tights.
The seven
shades
in Heist's new range (Heist/PA)
"We know from our customers that women shy away from wearing nude garments for the most part because, with only a limited range of shades on offer, they are unable to find a suitable match," says a Heist spokesperson.
"We saw the furore around Meghan Markle's tights at her first royal engagement as Duchess of Sussex, with the press lambasting the shade of nude. Our extended range seeks to solve this problem."
Next week, go Nude.
A post shared by Heist Studios (@heiststudios) on Jul 17, 2018 at 12:55pm PDT
Another royal family favourite, so-called nude heels have long been available in any shade as long as it's Caucasian beige, but Marks & Spencer has just announced an extended palette for two of its most popular styles.
Now, the M&S Collection Point Toe Court Shoe, £19.50, and Platform Court Shoe, £25, will be available in light caramel, light pink, taupe, dark taupe, mocha and espresso.
M&S Collection Platform Court Shoe in Dark Taupe (Marks & Spencer/PA)
"At M&S, we continue to work closely with our customers and listen to the feedback they provide us with, informing future product developments and launches. We currently stock 'nude' in selected product lines, and the addition of the nude capsule footwear collection further extends this offering," a spokesperson said.